In an attempt to make their best case for banning gay marriage--in spite of the fact that it would only mean a gigantic increase in capital for the $70bil/year marriage industry, the GOP trotted out the big names in Republican celebrity. And if you know the typical star wattage the GOP gets, well, it's just enough for Bush to read his pet goat storybook. Better to light one candle than curse the darkness, I suppose.

Now, one of the "stars" on hand was former Redskins stand-out Darrell Green--who, we must admit, we love. We love his soft, womanly hands. We love the speed with which he penetrates the opposing offense. We love the way he intercepts the rock. We love the way he is so firm when he's in the huddle. In short, we love having butt-sex with him. Moreso than Ifeanyi Ohalete.

Now, another one of the celebs the GOP dragged into town from Branson, Missouri was Pat Boone. Now look at this picture, and tell me...is this the look of the straight male standards bearer?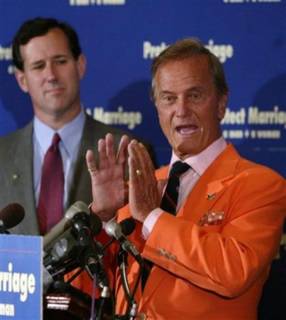 Yes, this is THE man to defend hetero marriage.



Shit! He looks like the Grand Marshall of the Cork County Ulsterman's Bathhouse and Chowder Society, for God's sake? Look at Santorum! Even he's getting wood!

Here's something uncanny, though. Is it just me, or is Pat Boone, in essence, the Gay Tom Daschle?



Daschle: A more butch Boone?



Personally, the resmeblance is UNCANNY.

At any rate, the Constitutional measure banning gay marriage failed embarrassingly...leaving it to the sweaty, pent-up House of Representatives to advance the ball.

As Wonkette might say, we now return to your regularly scheduled ass-fucking.