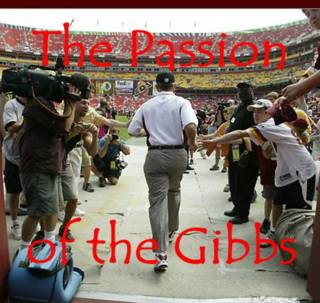 He died for your fourth down conversion!



Well, Washington Redskins fans finally got to see the day they never thought they'd see again, a Gibbs return to the sideline, an "old-school" win, an offensive line that could block, a pass rush, and an opening day victory over the Tampa Bay Buccanneers.

Certainly the 60-plus yard touchdown run that resulted in new-hire Clinton Portis' first toch of the ball was enough to put the Washington faithful in a state of ecstatic glee. It sounded to me like Raljon has never rocked so hard. FedEx Field is often derided as an architectural monstrosity that doesn't allow the fans the same impact they get in Kansas City or Minnesota, where the din can be so deafening it'll peel your skin off. Yet it seemed as if former Redskin-turned-Buc-QB Brad Johnson was frequently bedeviled by the full-throated crowd, harangued into submission over the past week by LaVar Arrington.

To be sure, there were still plenty of moments that recalled our many years of wandering in the fetid swamps of Turner and the blasted badlands of Spurrier. The Bucs tied the game and gained momentum when the vagaries of snapping and handing off the football seemed to briefly elude Cory Raymer and Mark Brunell, resulting in a fumble return for touchdown by Ronde Barber.

Yet the defense continually rose and the offense resolutely stuck with their game plan, resulting in a hard fought victory. Just the simple sheen of overall competence displayed by the local concern was enough to keep me glued to my set. Joe Gibbs is now 6-7 in opening day games. It's worth noting that on three of those winning occasions, the season ended in the Promised Land. If Tony Kornheiser wasn't busy explaining the nuances of his combover to Jason Alexander, I'm sure he'd be bandying about the dreaded "B" word at this moment.

Next week: Gibbs and his disciples travel to New Jersey to play the train wreck known as the New York Giants.