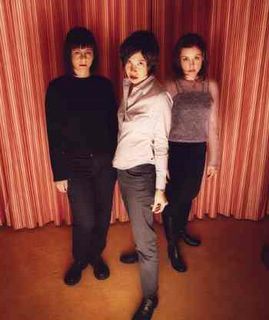 Janet, Carrie, and Corin. Show them your riffs.



Which is why DCeiver will not be missing an opportunity to obtain a pair of tickets to the coming Sleater-Kinney show at the 9:30 Club, despite the fact that I'll be unlikely to attend because that will be the night Behold! ends at Rorschach, and I will likely be doing closing night things. So I will send the Wife of DCeiver to the show with a friend bearing messages from me.

You shouldn't miss out either. Sleater-Kinney is a Pantheon rock band. Don't even try to debate it. Tickets for their June 25 show go onsale tomorrow morning at 10am. You know where to go.

Be alert: There are other shows about to hit tickets dot com. Eisley, the Eels, and the Reverend Al Green all have late June shows that will be going on sale tomorrow as well. If you're the type of person that likes to spend an evening with Billy Corgan glowering at you, either speaking or singing some of the world's most ludricously awful poetry at you, tickets to that experience go on sale the 21st.