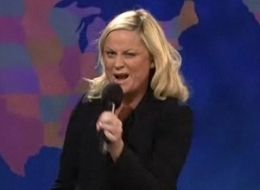 So, Amy Poehler had her baby tonight, very nearly coinciding with the on-air labor that Lorne Michaels was probably hoping for. According to every indication, she's effectively finished now with Saturday Night Live, and will now be moving on to whatever primetime comedy she's cooking up with Greg Daniels and Mike Schur. I've enjoyed Poehler ever since the UCB had their Comedy Central show. She is one of SNL's most versatile performers, and simply had great chemistry with everyone on the show, especially Tine Fey and Seth Meyers.

Can't help but feel a little sad that her time on the show is at an end. Though without a doubt, she went out on top with this:



As great as that was, I think it's worth highlighting an undersung character she used to play on SNL: Kaitlin - a very sweet, very excitable, very weird little girl whose crazy dreams were often too big for her to handle. Luckily, her good-hearted stepfather Rick was always there to make everything okay. In a genre that often thrives on sarcasm and snark, these funny yet sweetly poignant characters always stood out.



Well. You're up, Kristen Wiig!