When I was at the DNC, I had the opportunity to chat with Jonathan Klein, the president of CNN. He was pleasant and engaging, nice enough that one was able to forget, for a time, that the CNN Grill's elapsed time at getting you the chicken sandwich you ordered was running up on the sixty-minute mark. The bar had this decent Red Ale, and delicious mint julepy things, so it was easy enough to pass the time. Plus everything was free, as the CNN Grill was the only place in Denver that coddled journalists, who rightly spent the rest of their time in the hell hole they deserved: dirty shantytents with foul, stanky Porta-Loos adjacent. It was probably due to the overall pleasant accomodations that I didn't ask Klein any hard-hitting questions, but we sort of resolved that if the opportunity arose to speak again, we'd do so.

One question had to do with CNN's overall treatment of the internet as some inscrutable alien technology. It wasn't too long ago that CNN, in an attempt to wrap their head around blogs and other "writing" that happened "online," had this section of their newscast devoted to blowing up blogs on big screens and reading the words written thereon out loud, like we were two year olds. Often, they would highlight the text that was being read, just in case the whole concept of words, spoken aloud, proved too elusive. Recently, the advent of Twitter, which will basically ruin all facets of civilization at some point, has prompted a return of this practice. Gawker has an item that pretty much captures the experience precisely. I'd love the opportunity to ask Klein if he really, really, really, really, really, really, really, really, really, really, really, really, really, really, really thinks that this is a value-added segment to fill the CNN newshole with, because I sort of think it really, really, really, really, really, really, really, really, really, really, really isn't.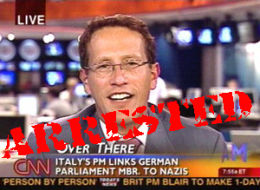 If I had the opportunity to ask Klein another question, I'd ask if CNN, as a corporation, has a human resources policy that states that it's perfectly fine to be caught by police in a public park in possession of crystal meth and with a length of rope tied to one's cock and yet retain one's job. Because I have to say, that's a pretty forward looking policy.